A game inspired by 'Cyberblocks', a C64 game.
Try to reveal the marked fields of the playfield. To do so, you have to build squares of a certain width over them. This width depends on the Squareblocks displayed on the right. You have to build the squares with the highest width first..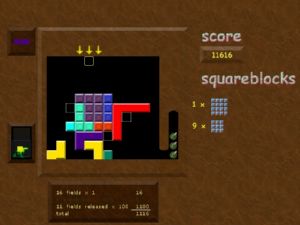 Dieses Spiel wurde inspiriert von dem C64 Spiel 'Cyberblocks'.
Versuche die markierten Felder aufzudecken. Um das zu tun, musst Du Quadrate über den Feldern bilden. Die Seitenlänge hängt von den rechts gezeigten Squareblocks ab. Squareblocks mit der höchsten Seitenlänge müssen zuerst gebildet werden.