Arrange the fallen blocks with the joints to build a connection between the left and the right side of the playfield. The conncted blocks will disappear and give you some points.

Play alone or together with a friend. Two players can play independent from each other, together with the same falling blocks, or they can play against each other.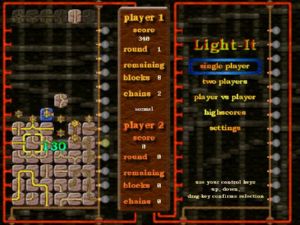 Arrangiere die gefallenen Blöcke mit den Verbindungsstücken so, dass sie eine Verbindung zwischen dem linken und rechten Spielfeldrand bilden. Die verbundenen Blöcke werden verschwinden und Dir Punkte einbringen.

Spiele alleine oder zusammen mit einem Freund. 2 Spieler können unabhängig voneinander spielen, zusammen mit den gleichen fallenden Blöcken, oder sie können gegeneinander spielen.